In 18 chapters through the Bud Spencer Museum
There's not only a lot to see here, there's also something for your ears! At 18 stations in our museum you will find the QR codes of our audio guide, with which you can listen to interesting facts about the corresponding station on your mobile phone.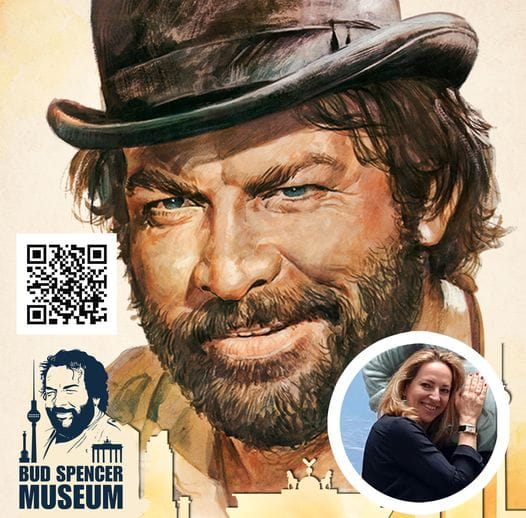 For each exhibition room and each topic in our large multimedia gallery, you will find a QR code at the appropriate place in the museum that you can scan with your mobile phone. You will then immediately hear interesting facts and anecdotes from Bud Spencer's life, appropriate to the station you are currently visiting.
The German version of the audio guide is narrated by the renowned voice actor Tilo Schmitz, who can also be heard as the narrator in the documentary that is part of the museum visit. Film fans know his distinctive deep voice as the dubbing voice of Ving Rhames, Michael Clarke Duncan Ron Perlman and others. Schmitz will also be the voice of Bud Spencer in the upcoming second part of the video game "Slaps and Beans".
The Italian version of the audio guide features Bud Spencer's eldest daughter Cristiana Pedersoli, who gives the text a very personal touch. The English version is spoken by Roger Worrod. The English actor and dubbing artist worked for a long time in Italy as a dubbing artist and can be heard, for example, in the English version of "Watch out, we're mad" on John Sharp as the gangster boss.
All in all, the audio guide offers you the chance to immerse yourself in Bud Spencer's life for over 40 minutes. Don't miss it!
We recommend bringing headphones for your mobile phone to use the audio guide! This will give you a more immersive listening experience and won't disturb the other visitors. For visitors who do not have a mobile phone with them or who would like to read the text again afterwards, the audio guide is also available in text form in the museum.
Try it out right away with our welcome code!